Day 15 since ground breaking(Oct 4th).
Our forms for the basement walls were delivered friday and will poured on Monday Oct. 22
Yes... I am about to post more pics than I should be.... Nadase, another Blogger told me I can turn my blog into a blurb which is in book form afterwards, so I am trying to make it informational for later as we look back.
You have to look for the excitement within.
My son standing over our large hole...soon to be basement.
My sons decided to pick up a piece of coal as a keepsake, we are going to put it in a baseball case, a piece of our new beginning.
MORE GOOD NEWS................SEAMLESS SHOWER APPROVED!!
Say goodbye to the Seamed Shower...
I basically contacted the glass company did all the leg work myself and approval was a no brainer.....my suggestion...if anyone wants a nonstandard try doing the legwork yourself, the less your PM has to do the better chance of getting some nonstandards, they have better things to do....really they do....just my feeling and experience.
examples of a Seamless shower
This is an example of a Seamed Shower door..........notice the difference?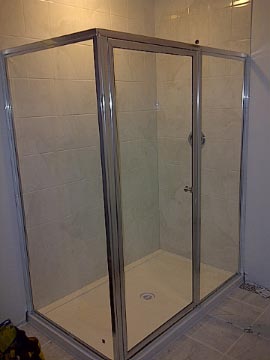 I am sooo happy to get his nonstandard approval......